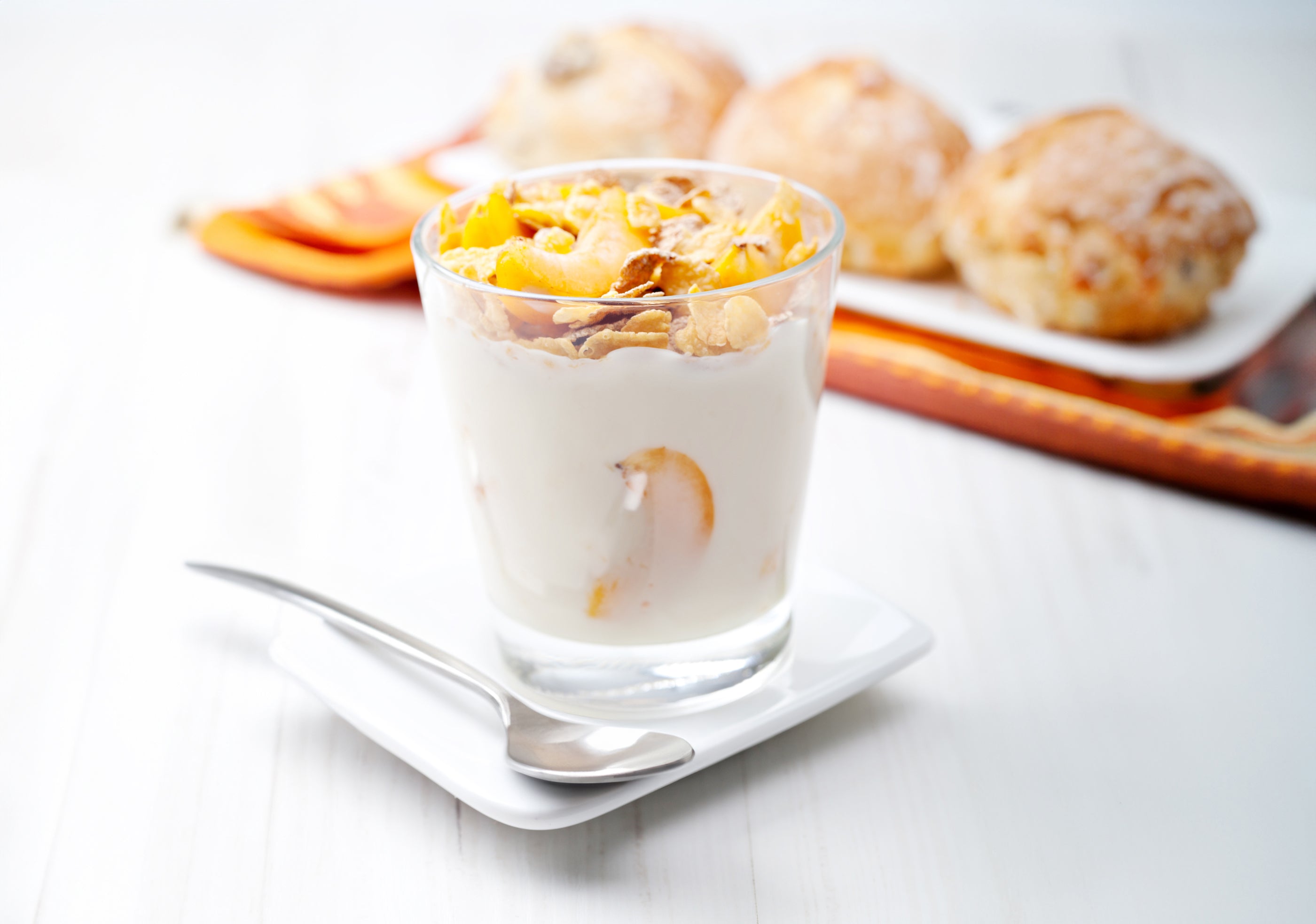 REZEPTE
Leckerer Geschmack in jeder Schüssel
Joghurt ist nicht nur gesund, sondern auch unglaublich vielseitig in der Küche. Entdecke hier eine Auswahl an köstlichen Joghurtrezepten, die deinen Gaumen verwöhnen und deine kulinarische Kreativität entfachen werden.
Recipes
Delicious taste in every bowl
Yogurt is not only healthy, but also incredibly versatile in the kitchen. Discover a selection of delicious yogurt recipes that will pamper your taste buds and spark your culinary creativity.
Breakfast variety with yogurt:
Berry yogurt parfait:


Layer fresh berries, yogurt and crunchy granola in a glass for a colorful and healthy breakfast.

Yoghurt smoothie bowl:


Mix yogurt with your favorite fruits and some plant milk to create a creamy smoothie bowl. Toppings like nuts and seeds add an extra kick.
Delicious snacks and desserts:
Yoghurt dip:


Mix yogurt with herbs, garlic and lemon juice for a delicious dip for vegetable sticks or flatbread.

Frozen yogurt bites:


Mix yogurt with honey and frozen fruit, pour the mixture into mini muffin cups and freeze - a refreshing snack for hot days.
Hearty main dishes:
Greek Yogurt Chicken Salad:


Prepare a salad with grilled chicken, cucumbers, tomatoes and olives and top it with a dressing of Greek yogurt and fresh herbs.

Yogurt curry:


Use yogurt as a base for a creamy curry with vegetables or chicken. The mild acidity of the yogurt harmonizes perfectly with the spices.
Dessert variations for those with a sweet tooth:
Yoghurt panna cotta:
Replace some of the cream in your panna cotta recipe with yogurt for a lighter, refreshing option.


Yoghurt cake: Bake a juicy lemon cake and refine it with yoghurt - for a delicious mix of sweetness and freshness.



Ingredients

4 eggs

200g sugar

1 packet of vanilla sugar

250 g yogurt

150 ml oil

400g flour

1 packet of baking powder


Ingredients for the baking pan:

20 g butter (for greasing the mold)
15 g flour (for the mold)
Conclusion:
Yogurt is a true all-rounder in the kitchen that can be used in a variety of recipes. From savory to sweet, from breakfast to dessert - the possibilities are endless. Let your creativity run wild and enjoy the delicious taste of yogurt in every bowl and on every plate!